Universal Portable Aluminum Tripod Stand & Bag For Canon Nikon Camera Camcorder! 6959011569607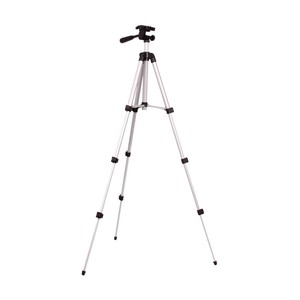 ---
Introductions:If you're a professional photographer or videographer, please don't miss out this good chance to own a great tripod. Firmly hold your camera, this WEIFENG WT3110A Professional Flexible Aluminum Tripod offers maximum stability to avoid camera shaking and achieve best shooting effect. With moderate weight, the tripod is portable for your outdoor shooting. Especially for night and close-up shooting, this tripod is indispensable. It is really an ideal companion for digital camera or camcorder during your travelling. Do not hesitate to bring it home!   

Kuya*deal

Universal Portable Aluminum Tripod Stand & Bag For Canon Nikon Camera Camcorder!

Introductions:

If you're a professional photographer or videographer, please don't miss out this good chance to own a great tripod. Firmly hold your camera, this WEIFENG WT3110A Professional Flexible Aluminum Tripod offers maximum stability to avoid camera shaking and achieve best shooting effect. With moderate weight, the tripod is portable for your outdoor shooting. Especially for night and close-up shooting, this tripod is indispensable. It is really an ideal companion for digital camera or camcorder during your travelling. Do not hesitate to bring it home!

 

 

 

Features:1. Portable tripod with flexible legs2. Made of high quality duralumin, hard enough3. Suitable for most digital cameras and camcorders4. Holds your camera steady at any angle5. This removable quick-install panel can fix to your camera easily

 

 

 

Specifications:1. Maximum Height: 40.16" / 102cm2. Minimum Height: 13.78" / 34.5cm3. Dimensions: (13.38 x 3.07 x 2.95) "/ (34 x 7.8 x 7.5)cm (L x W x H)4. Weight: 12.27oz / 348g5. Leg Sections: Pro Quality Aluminum 3 Section Leg6. Head Type: 360° Swivel Fluid Head7. Leg Lock Type: Self-aligning Metal Quick-flip Leg Locks8. Material: Aluminum9. Color: Black

 

 

 

Package Includes:1 x WEIFENG Professional Tripod  WT3110A

1 x Carrying Bag
Item Specifics
Brand
Unbranded
MPN
Does not apply
UPC
Does not apply
Payment

We Accept Payment Through Paypal Only.

Payment through e-Check will be held until it cleared, please wait patiently.

 

Shipping

Your items will be sent out within 24hours in business days from domestic warehouse, 48hours in weekends.

All domestic orders has tracking #, it will be upload to within 12hours after your item shipped. We send to buyer's Paypal confirmed address.

We make shipment to world wide.

Local pick up service is not available.

Returns

We guarantee against any defective products. A full refund can be issued during the first 30 days upon receipt of the product.  

   A replacement l be provided for any defective or misrepresented products for the duration of the 12 months.    The original shipping label must be sent back to us to validate the return.    Before returning, please contact us to get RMA#.    COD return or "Return to Sender" will not be accepted.Contact Us

Any problem, please feel free to let us know through at the first time.

Feedback

If you are satisfied with the item you received, your five stars feedback will be much appreciated.

Kuya*deal

DESCRIPTIONPAYMENTSHIPPINGRETURN POLICYCONTACT US
Shop Category Store Home  Laptop Adapters  Health & Beauty  Sports & outdoors  Electronics  Door Mats & Floor Mats  Video Games ◈  MX  Home & Garden  Back to school  OtherHot Item

UltraFire LED 5 Mode Zoomable Flashlight Torch Lamp 1600LM Focus A
USD 6.99

NEW Power Supply&Cord for Dell Latitude D600 D610 D620
USD 6.95

AC Adapter for HP COMPAQ Presario V5000 V2000 V6000 US
USD 6.45

New 10PCS Wholesale Quality Natural Ostrich Feathers "12-14" Inch Black US
USD 8.99

New FOR ASUS X551C X551M Laptop Charger Adapter + Cord MAINS CABLE/CORD USA
USD 6.95

Paypal WarrantyBest Rated ShopNew List Item

Adjustable Artist Aluminium Alloy Tripod Painters Easel Stand White board Bag US
USD 11.95

Kitchen Storage Dish Cup 2-Tier Dryer Drying Rack Holder Organizer
USD 12.99

40L Outdoor Neutral 900D Military Tactical Backpack Rucksacks Hiking Travel Bag
USD 28.99

New 40L Outdoor Neutral Military Tactical Backpack Rucksacks Hiking Travel Bag
USD 29.99

Adjustable 360°Foldable Laptop Notebook PC Desk Table Vented Stand Bed Sofa Tray
USD 17.99

Help & InfoPayment PolicyShipping PolicyReturn PolicyFAQAbout Us
Universal Portable Aluminum Tripod Stand & Bag For Canon Nikon Camera Camcorder!

Introductions:

If you're a professional photographer or videographer, please don't miss out this good chance to own a great tripod. Firmly hold your camera, this WEIFENG WT3110A Professional Flexible Aluminum Tripod offers maximum stability to avoid camera shaking and achieve best shooting effect. With moderate weight, the tripod is portable for your outdoor shooting. Especially for night and close-up shooting, this tripod is indispensable. It is really an ideal companion for digital camera or camcorder during your travelling. Do not hesitate to bring it home!

 

 

 

Features:1. Portable tripod with flexible legs2. Made of high quality duralumin, hard enough3. Suitable for most digital cameras and camcorders4. Holds your camera steady at any angle5. This removable quick-install panel can fix to your camera easily

 

 

 

Specifications:1. Maximum Height: 40.16" / 102cm2. Minimum Height: 13.78" / 34.5cm3. Dimensions: (13.38 x 3.07 x 2.95) "/ (34 x 7.8 x 7.5)cm (L x W x H)4. Weight: 12.27oz / 348g5. Leg Sections: Pro Quality Aluminum 3 Section Leg6. Head Type: 360° Swivel Fluid Head7. Leg Lock Type: Self-aligning Metal Quick-flip Leg Locks8. Material: Aluminum9. Color: Black

 

 

 

Package Includes:1 x WEIFENG Professional Tripod  WT3110A

1 x Carrying Bag

PaymentShippingReturnsContact UsFeedback

We Accept Payment Through Paypal Only.

Payment through e-Check will be held until it cleared, please wait patiently.

 

Your items will be sent out within 24hours in business days from domestic warehouse, 48hours in weekends.

All domestic orders has tracking #, it will be upload to within 12hours after your item shipped. We send to buyer's Paypal confirmed address.

We make shipment to world wide.

Local pick up service is not available.

We guarantee against any defective products. A full refund can be issued during the first 30 days upon receipt of the product.  

   A replacement l be provided for any defective or misrepresented products for the duration of the 12 months.    The original shipping label must be sent back to us to validate the return.    Before returning, please contact us to get RMA#.    COD return or "Return to Sender" will not be accepted.

Any problem, please feel free to let us know through at the first time.

If you are satisfied with the item you received, your five stars feedback will be much appreciated.

All right reserved.
Powered by SoldEazy