Universal Portable Aluminum Tripod Stand & Bag For Canon Nikon Camera Camcorder 614324366324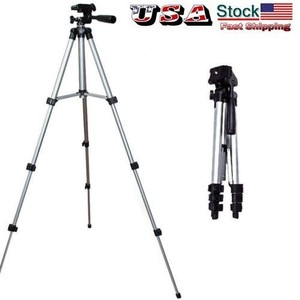 ---
Feature:The WF-3110A Tripod is a combination of Tripod and 3 way head. With a carrying length of only approx. 35.5cm, this set is ideal for on the go and indispensable for photo travels. The aluminium material is very lightweight, but nevertheless very sturdy, so that enough load capacity and stability are given. Through the integrated crank you can adjust the height over three segments on up to 104cm due to your requirements. The load capacity of the head is approx. 1.5kg and therewith ideally suitable for compact and DSLR cameras. extremely lightweight Tripod made of aluminium with integrated 3 way headconvenient quick-release plate with 1/4 inch connection threadexact height adjustment through crank and precise fine-cut threadeasy operationmax. load ... US SHIPPING Universal Portable Aluminum Tripod Stand & Bag For Canon Nikon Camera Camcorder

Feature:The WF-3110A Tripod is a combination of Tripod and 3 way head. With a carrying length of only approx. 35.5cm, this set is ideal for on the go and indispensable for photo travels. The aluminium material is very lightweight, but nevertheless very sturdy, so that enough load capacity and stability are given. Through the integrated crank you can adjust the height over three segments on up to 104cm due to your requirements. The load capacity of the head is approx. 1.5kg and therewith ideally suitable for compact and DSLR cameras. extremely lightweight Tripod made of aluminium with integrated 3 way headconvenient quick-release plate with 1/4 inch connection threadexact height adjustment through crank and precise fine-cut threadeasy operationmax. load capacity: approx. 1.5KGincl. convenient carrying bagSpecification: Contraction height: 355 mmMaximum working height: 1040 mmThe minimum height: 350 mmDiameter: 16.8 mmNet weight: 0.38KGConnection Thread: 1/4"Material aluminium, metal, plastic (fasteners, grips)Compatible with: All kinds of digital camera & camcorder

 

Suitable for: Canon: 1100D 60D 450D 500D 550D 600D 650D 7D 5DII etc Nikon: D80 D90 D3100 D3000 D7000 D600etc Sony: A65 A290 A900 A390 A450 NEXC3 NEX5C NEX5N NEX7 etc Panasonic, Olympus, JVC and Pentax DSLR Camera

 

Package including:

 

1x TF-3100A Tripod

1x Carrying Bag

1x Phone Holder Bracket (Gift)
Item Specifics
UPC :
614324366324
Features :
Quick Release
MPN :
Does not apply
Type :
Tripod  
Model :
Tripod TF-3110/Silver
To Fit :
Camera
Brand :
MEKING
Min.working height :
350mm
Material :
Aluminium,Metal,Plastic
Connection Thread :
1/4"
Net weight :
0.38kg
Diameter :
16.8mm
Compatible Brand :
For Canon Nikon Sony Panasonic Olympus Pentax
Compatible Brand :
For Canon Nikon Sony Panasonic Olympus Pentax
Payment

 

 

We accepts Paypal only if you have any questions about the payment,please contact us through message. By biding on this item,the buyer agrees to all of the terms and conditions as outlined in this listing. Please ensure to read and agree to all terms and conditions before biding.

 

 

 

 

Shipping

Note

 

We ship items with different shipments according different countries. All items value below $11 will be shipped with HongKong post (no tracking number provide) But we can ship it bu China post Regester Airmail by additional $2.5(Please contact us) If any shipment delay problems,please contact us freely,we will follow the tracking details for you. you  can also check the information with tracking number here: 17track.net Delivery time is also influenced by the CUSTOM and local post office,so there maybe several days delay sometime

 

International Buyers-Please Note

 

 

Import duties,taxes and charges are not included in the item price,These charges are the buyer's responsibility

 

Please check with your country's customs office to determine what these additional costs will be prior to bidding / buying

 

Shipping

 

 

Shipping status are changed in at times of dispatch

 

 

Providing the product is in stock,items will be shipping within 48 hours of receiving cleared payment

 

Returns To return an item you must contact us and take photos of your item to clearly show any damage or unusual aspects of it. Approved returns will be subject to inspection on arrival.Items must be returned in original condition with all original packaging. All shipping and handling charges are non-refundable. Return delivery costs are the responsibility of the Buyer.We will cover the cost of sending replacement / repaired items. Within 7 days after receving your products,we offers a no-hassle 7 day exchange / replace only if your items are found to be defective by manufacturer. Customer Services

If any questions,please feel free to contact us

We are glad to talk & cooperate with you

 

☎ Working Time ☎

 

CN TIME

 

9:00am to 18:00pm [ Monday - Saturday ]

We have the factory and we offer items for worldwide.

If you like our items,please contact us,we are glad to offer the nice price and items for you.

We look forward to working with you.

DESCRIPTIONPAYMENTSHIPPINGRETURN POLICYCONTACT US
Shop Category Store Home  ON SALE ★★★★★ ◈  10% OFF  Flash & Accessories ▷  Flash Light  ♢  yongnuo  ♢  Godox ▷  Flash Trigger  ♢  Trigger  ♢  Trigger Kit  ♢  Receiver  ♢  Cable ◈  Flash Bracket ▷  Flash Accessories  ♢  Kit  ♢  Softbox  ♢  Diffuser  ♢  Reflector  ♢  for K-9 Series  ♢  Adapter  ♢  Snoot  ♢  Honeycomb Grid  ♢  Magnetic Flash Modifier ▷  Continuous LED Lighting  ♢  LED Light  ♢  LED Light (Ring)  ♢  Other Light  Studio Lighting ▷  Studio Flash  ♢  220v ▷  Continuous Light  ♢  LED Light  ♢  Light Head  ♢  Lighting Bulb  ♢  Lighting Softbox  ♢  Accessories ▷  Softboxes  ♢  for Speedlite (E-series)  ♢  for Speedlite (S-series)  ♢  for Studio FLash  ♢  for Studio Flash (with grid)  ♢  for Studio Flash (K-series)  ♢  Lighting Softbox  ♢  Speedring ▷  Umbrellas  ♢  33" ▷  Reflector  ♢  Reflector ( 5-in-1 )  ♢  Reflector ( Portable )  ♢  Light Panel ◈  Light Control ◈  Soft Tent ◈  Accessories  Filter ◈  UV ◈  CPL ◈  ND  Lighting Kits ◈  Flash Lighting Kits ◈  Continuous Light Kits ◈  Photographic Kits  Studio Support System ▷  Light Stand  ♢  Light Stand  ♢  Collapsibe Stand  ♢  Air-Cushion Stand  ♢  Heavy Duty Stand  ♢  Ceiling Stand ◈  Boom Stand ◈  Background Stand System ◈  Light Stand Accessory  Background ◈  Background Paper ◈  Monochroic Flocked Cloth ◈  Monochroic Muslin ◈  Tye-Dyeing Scenic ◈  Background PVC  Photographic Accessories ▷  Remote Control  ♢  shutter release  ♢  remote (wireless)  ♢  timer shutter release ◈  Cleaning System ◈  Accessories for Camera  Lenses  Lenses Accessories ◈  Lens Pouch ◈  Lens Cap ◈  Lens Hood ▷  Adapter Ring  ♢  Convert  ♢  Reverse  ♢  macro extension tube ◈  Lens Camo Cover  Camera Support ◈  Tripod Kits ◈  Tripod ◈  Head ◈  Flexible Tripod ◈  Tripod Accessories ◈  Others  Other Accessories ◈  Cell Phone Accessories  Battery&Charger&Accessories  Video Accessories ◈  for Gopro ◈  Camera Stabilizing Systems ◈  For DJI  LED Continuous Light ◈  LED Video Light  Camera Accessories ◈  Bag & Cover ◈  Camera ◈  Cleaning Accessory ◈  Camera Strap&Hand Grips  US LOCATION  Sporting Goods ◈  Other Sporting Goods ◈  Winter Sports ◈  Water Sports ◈  Tennis&Racquet Sports ◈  Team Sports ◈  Outdoor Sports ◈  Indoor Games ◈  Hunting ◈  Golf ◈  Fitness, Running & Yoga ◈  Fishing ◈  Cycling ◈  Boxing, Martial & MMA  Home & garden ◈  Pet supplies ◈  Home Décor ◈  home improvement ◈  Others ◈  Kitchen Dining & Bar ◈  Housekeeping & Organization  ES LOCATION  DE LOCATION  Motors  OtherHot Item

Photography 5 in1 Light Collapsible Portable Photo Reflector 80x120cm Diffuser
USD 20.97

Selens Universal Magnetic Flash Modifier Honeycomb Grid Grip Gels Filter Kit US
USD 23.99

Extendable Wired Remote Shutter Handheld Selfie Stick Monopod For iPhone Samsung
USD 1.99

18cm Microphone Windshield Fur Muff Windscreen For Mic121 Camera Recorder
USD 3.50

Yongnuo YN560 III Flash for Canon Nikon Pentax Olympus Fit RF-602/603 YN-560 III
USD 56.95

PictureNew List Item

HC1000-7000 14BB Full Metal Spinning Fishing Reel Automatic Folding Handle 5.2:1
USD 14.25

8 LED Aquarium Fish Tank Plant Lighting Reptile Climbing Pet Lamp Clip-on Light
USD 8.42

Clear ℉ ℃ Circular Outdoor Window Temperature Thermometer Weather Station Tool
USD 9.17

Waterproof LED Digital Shower Temperature Display Water Thermometer Monitor New
USD 17.77

Artificial Faux Garden Turf Grass Lawn Moss Miniature Craft Dollhouse Decor DIY
USD 1.99

US SHIPPING Universal Portable Aluminum Tripod Stand & Bag For Canon Nikon Camera Camcorder

Feature:The WF-3110A Tripod is a combination of Tripod and 3 way head. With a carrying length of only approx. 35.5cm, this set is ideal for on the go and indispensable for photo travels. The aluminium material is very lightweight, but nevertheless very sturdy, so that enough load capacity and stability are given. Through the integrated crank you can adjust the height over three segments on up to 104cm due to your requirements. The load capacity of the head is approx. 1.5kg and therewith ideally suitable for compact and DSLR cameras. extremely lightweight Tripod made of aluminium with integrated 3 way headconvenient quick-release plate with 1/4 inch connection threadexact height adjustment through crank and precise fine-cut threadeasy operationmax. load capacity: approx. 1.5KGincl. convenient carrying bagSpecification: Contraction height: 355 mmMaximum working height: 1040 mmThe minimum height: 350 mmDiameter: 16.8 mmNet weight: 0.38KGConnection Thread: 1/4"Material aluminium, metal, plastic (fasteners, grips)Compatible with: All kinds of digital camera & camcorder

 

Suitable for: Canon: 1100D 60D 450D 500D 550D 600D 650D 7D 5DII etc Nikon: D80 D90 D3100 D3000 D7000 D600etc Sony: A65 A290 A900 A390 A450 NEXC3 NEX5C NEX5N NEX7 etc Panasonic, Olympus, JVC and Pentax DSLR Camera

 

Package including:

 

1x TF-3100A Tripod

1x Carrying Bag

1x Phone Holder Bracket (Gift)

Item Specifics
UPC :
614324366324
Features :
Quick Release
Type :
Tripod  
Model :
Tripod TF-3110/Silver
To Fit :
Camera
Brand :
MEKING
Min.working height :
350mm
Material :
Aluminium,Metal,Plastic
Connection Thread :
1/4"
Net weight :
0.38kg
Diameter :
16.8mm
Compatible Brand :
For Canon Nikon Sony Panasonic Olympus Pentax
Compatible Brand :
For Canon Nikon Sony Panasonic Olympus Pentax

Payment

 

 

We accepts Paypal only if you have any questions about the payment,please contact us through message. By biding on this item,the buyer agrees to all of the terms and conditions as outlined in this listing. Please ensure to read and agree to all terms and conditions before biding.

 

 

 

 

Shipping

Note

 

We ship items with different shipments according different countries. All items value below $11 will be shipped with HongKong post (no tracking number provide) But we can ship it bu China post Regester Airmail by additional $2.5(Please contact us) If any shipment delay problems,please contact us freely,we will follow the tracking details for you. you  can also check the information with tracking number here: 17track.net Delivery time is also influenced by the CUSTOM and local post office,so there maybe several days delay sometime

 

International Buyers-Please Note

 

 

Import duties,taxes and charges are not included in the item price,These charges are the buyer's responsibility

 

Please check with your country's customs office to determine what these additional costs will be prior to bidding / buying

 

Shipping

 

 

Shipping status are changed in at times of dispatch

 

 

Providing the product is in stock,items will be shipping within 48 hours of receiving cleared payment

 

Returns To return an item you must contact us and take photos of your item to clearly show any damage or unusual aspects of it. Approved returns will be subject to inspection on arrival.Items must be returned in original condition with all original packaging. All shipping and handling charges are non-refundable. Return delivery costs are the responsibility of the Buyer.We will cover the cost of sending replacement / repaired items. Within 7 days after receving your products,we offers a no-hassle 7 day exchange / replace only if your items are found to be defective by manufacturer. Customer Services

If any questions,please feel free to contact us

We are glad to talk & cooperate with you

 

☎ Working Time ☎

 

CN TIME

 

9:00am to 18:00pm [ Monday - Saturday ]

We have the factory and we offer items for worldwide.

If you like our items,please contact us,we are glad to offer the nice price and items for you.

We look forward to working with you.

Copyright of XXXXX. All right reserved.
Powered by SoldEazy