Replacement O-Rings for Ford DR-3Z8566-A & 2x BC3Z-8590-F pre-greased w/silicone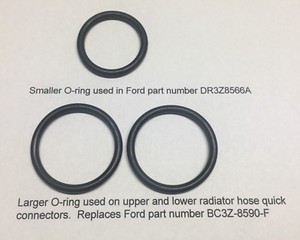 ---
***See my other listings for complete kit that includes coolant reservoir hose connector O-ring***Kit includes:Quantity (1)  smaller O-ring used in the ford part number DR3Z8566A  T-CONNECTORQuantity (2)  larger O-ring used on upper and lower radiator hose quick connectors.  Replaces Ford part number BC3Z-8590-FThe o-rings will arrive pre-greased with silicone O-ring grease which is required for installation. 

The coolant quick connectors that Ford used on vehicles such as the F-150 are notorious for developing leaks over time especially in cold weather. 

The upper and lower radiator hoses on many F-150s use part number BC3Z-8590-F which is available from Ford Parts. 

There is a smaller quick connector on the coolant T-connector that joins the upper radiator hose with the thermostat and water pump.  The T-connector is part number DR3Z8566A.  It contains an O-ring that is replaceable, but not available from Ford Parts; it is included in this kit.

This O-ring kit along with the Pegasus Reservoir Silicone Hose Kit is the solution to fixing these common leaks.