Premium Real Screen Protector Tempered Glass For iPhone 6 6s 7 Plus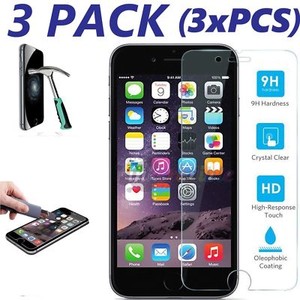 ---
   
3 OR 1 TEMPERED GLASSES FOR IPHONE BUY 3 GLASSES FOR THE PRICE OF 1!( IF 3 PACK IS CHOOSENNEW PREMIUM TEMPERED GLASS FOR IPHONE  FULL RETAIL PACKAGE TOP QUALITY 2.6 MM THICKNESS 2.5D AND ROUNDED BORDERS.Protect your cell phone with this premium real Temper Glass flim screen protector. Transparent glass that has been reinforced to increase shock absorbency. While it is .26mm thick, it still provides a high level of surface hardness without losing in touch sensitivity.

Surface Hardness - .26mm thick and made with chemically treated, transparent tempered glass. 8-9H: even sharp objects such as knives and keys will not scratch the tempered glass.
Anti-Shatter Film - If tempered glass breaks, the tempered glass breaks into small pieces that are not sharp, making it safe for users.
Oleophobic Coating - The tempered glass has an Oleophobic coating that prevents fingerprints & other contaminants which also make the film easy to clean.
Delicate Touch: Flim is coated on the back with a strong silicone adhesive that makes installation easy and attaches the film firmly so it would not affect the screen's sensitivity.

MADE FOR: APPLE IPHONE  MATERIAL: TEMPERED GLASS FILMPACKAGE INCLUDES QTY OF 3 OR 1 : (PLEASE SELECT FROM DROP DOWN SINGLE PACK OR 3 PACK)

0.26mm Temper Glass Film Screen Protector
Microfiber Cleaning Cloth
Alcohol Wipe for installation preparation.