O-ring for Ford part DR3Z8566A (DR3Z8566B) T-Connector, GUARANTEED FIT!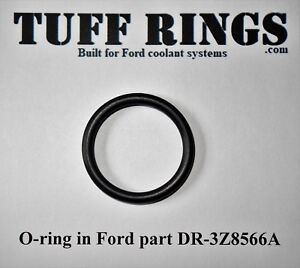 ---
**We suggest replacing all the O-rings in this system at the same time since the others tend to fail soon after the first one****We stock all of the O-rings in our listings****Message anytime for installation tips**

Includes one O-ring used in Ford part # DR3Z8566A (DR3Z8566B) "T-Connector" where it connects to the thermostat and water pump.  This O-Ring is not available from Ford but is easily replaceable. (see pic, circled in green)

The O-rings in these coolant quick connectors become flattened over time and must be replaced. It is a very common issue.